Museum and Library of Hungarian Agriculture
- Budapest
Address:

1146, Budapest Városliget, Vajdahunyadvár

Phone number:

(1) 363-1117

Opening hours:

01.03-31.10.: Tue-Sun 10-17

01.11-28.02.: Tue-Fri 10-16, Sat-Sun 10-17
The exhibition has closed for visitors.
2011.06.22.
-
2019.12.31.
Museum tickets, service costs:
| | | |
| --- | --- | --- |
| Individual ticket | 300 HUF | |
| Individual ticket | 600 HUF | |
| Ticket for adults | 1600 HUF | |
| Group ticket for adults | 500 HUF | |
| Ticket for students | 800 HUF | |
| Ticket for pensioners | 800 HUF | |
| Individual combined ticket for adults | 2100 HUF | |
| Individual combined ticket for students | 1300 HUF | |
| Individual combined ticket for pensioners | 1300 HUF | |
| Guide for adults | 5000 HUF | / capita |
| Group guide for students | 3000 HUF | |
| Group guide | 8000 HUF | |
Domestication of horses changed the course of human history. Domesticated helped people populate inland and spreading of nomadic people. Horses provided transportation, changed ways of hunting, warfare and last but not least, agriculture. Just like other domesticated animals, horses provided meat and milk. They represented value in society. These roles existed side by side for centuries, though with ever changing significance.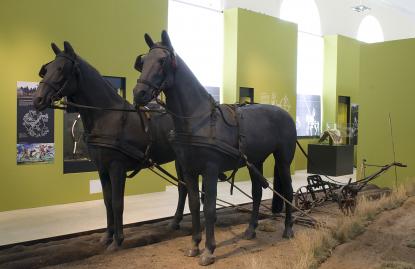 The importance of horses in wars was recognized in Antiquity. Chariots were used in nearly all Mid-eastern and European empires. Nomadic war tactic in the bleaks came with a lot of mobility for armies, making fast changes of places possible and using weapons at the same time possible. During the reign of Árpád House kings in Hungary, the face of warfare similar to that of the knight in Western Europe became popular in Hungary, too. It came with new type of horses, harnesses and training. During Ottoman rule, cavalry had to fulfil new requirements. Hussars formed applying to these new requirements in the 15th century. The armature and uniform of the Hussars also changed.
Horses also played important role in transportation. The exhibition presents various horse carriages and wagons, various types of the Hungarian invented 'kocsi-coach'. The means of public transportation was horse-drawn vehicles, mail-coaches, and also the horse tramway or the omnibus, where the ancestors of taxis were hansom-cabs and fiacres.
Technological development in the 18-19th century led to horse being the man power sources in agriculture. The exhibition deals with the role horses played in agriculture via presenting the history of wheat. A life-size diorama shows how a horse-drawn plough worked. Original photos and scale models help us show how sowing, harvesting, transportation of grain was done by the help of horses.
Horse keeping was also considered important on national level. Thus, national guide to horse keeping, horse pedigree and famous national stud farms are also dealt with. Showing the history of horse breeding in Hungary would be impossible without mentioning Hungarian breed horses. György Vastagh Jr and László Vastagh made life-size horses of some of the breeds or an outstanding horse itself.
By the 20th century, horses lost their importance due to motorization. The historic review of these would be impossible without demonstrating the role horses play these days. We talk about the most important gallop and trotting races, and the most important horse sports. Traditional horse sports in Hungary, such as dressage tests, show-jumping, military or coach-driving, and some less popular or less known, volteging we also deal with.