Hungarian National Gallery
- Budapest
Address:

1014, Budapest Szent Gy├Ârgy t├ęr 2.

Phone number:

(1) 201-9082

Opening hours:

Temporarily closed.
The Hungarian National Gallery, Hungary's largest exhibited collection of fine art, is located in the Buda Palace, buildings A, B, C and D.

Permanent exhibitions
The exhibition consists of two distinct chronological units. The nineteenth-century rooms encompass art from late romanticism through to symbolism.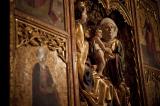 The ground-floor exhibition of wooden sculptures and panel paintings from the Late Middle Ages continues on the first floor, in the former throne room of the palace, and in two connecting rooms. Here a total of fifteen mostly complete winged altarpieces are on display, along with numerous altarpiece fragments. The majority of the works of art on show here are from the early 16th century. In terms of the number of complete altarpieces and their artistic quality, this assemblage is one of the most important of its kind in Europe.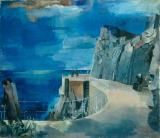 The 20th century permanent exhibition dealing with the most important artists and aspirations until the end of the Second World War is located on the recently renovated second-floor of the museum. The time period we concentrate on is 1896 to 1945, with 150 paintings, 30 statues and 200 coins.

further exhibitions