Hungarian National Gallery
- Budapest
Address:

1014, Budapest Szent György tér 2.

Phone number:

(1) 201-9082

Opening hours:

Tue-Sun 10-18
The Hungarian National Gallery, Hungary's largest exhibited collection of fine art, is located in the Buda Palace, buildings A, B, C and D.

Permanent exhibitions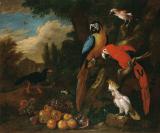 Late Renaissance and Baroque Art: The permanent exhibition of Late Renaissance and Baroque art (1550-1800) surveys the art of 250 years, beginning with Mannerist works made in Vienna and Prague in the years around 1600. The 17th century is represented by Hungarian ecclesiastical treasures, wooden epitaphs and tomb sculptures, as well as by depictions of Árpád-dynasty saints in Hungarian attire. Next, the show evokes the culture of aristocratic residences in the Baroque age by means of a painted travelling tapestry once belonging to Ferenc Rákóczi II, prince of Transylvania.
Early 18th-century art is represented by works of Bohemian, Silesian and German masters, and by those of their Hungarian counterparts who achieved fame abroad. Besides monumental works, altarpieces and fresco sketches help recall the one-time completeness of Baroque ecclesiastical art. Most of these works present scenes from the legends of Hungarian royal saints.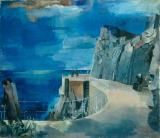 The 20th century permanent exhibition dealing with the most important artists and aspirations until the end of the Second World War is located on the recently renovated second-floor of the museum. The time period we concentrate on is 1896 to 1945, with 150 paintings, 30 statues and 200 coins.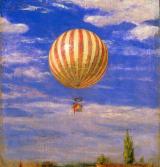 As a new thematic unit at our permanent exhibition, we present white marble statues that exemplify types of nude representation, made during the period from the turn of the last century to the 1920s.

further exhibitions