Hungarian Open Air Museum
- Szentendre
Address:

2000, Szentendre Sztaravodai ├║t

Phone number:

(26) 502-500, (26) 502-501

Opening hours:

01.11-27.03.: Sat-Sun 10-16

01.04-31.10.: Tue-Fri 9-17

12-13.11.: 9-18
The Open Air Museum of Szentendre is the central open air collection of Hungary. The mostly original buildings and objects represent the popular architecture of various Hungarian regions and the culture of the inhabitants of villages and small towns, from the end of the 18th century up to the first third of the 20th century. In each region units visitors can also learn about the natuaral environment and flora of the region.

So far we have completed four groups of buildings, which are: the Upper-Tiszanian region, the Kisalf├Âld (small Hungarian plain), the West-Trans-Danubian region, Bakony area and Upper Balaton. A market town of the great Hungarian plains is now under construction. An animal farm aslo belongs to it, where visitors can see all sorts of domestic animals, too.

Visitors can sense the athmosphere of the original villages, as they walk up and down the streets and among the workshops, buildings and yards. Visitors can learn about crafts rare or completely forgotten by today. Traditional feasts, habits and foods of the village society are also represented.

We have been making serious efforts to create a "living museum" by the "speach" of the items we exhibit. Besides looking, visitors can also take part in our programmes in order to discover the rich treasury of our popular arts and traditions.
Permanent exhibitions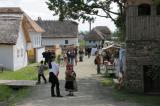 The North-Hungarian Village Region was ceremoniously opened on 25 June 2010. It is to deal with the traditional architecture and lifestyle in the Ipoly and Bodrog Interfluve area. The setting consists of 12 houses and 26 outbuildings, with 5000 original artefacts.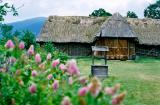 The regional unit presents the traditional vernacular peasant culture of ┼Érs├ęg in Vas County, G├Âcsej and Het├ęs in Zala County.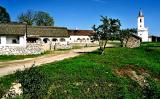 Bakony evokes hills covered with woods, while Balaton-Uplands recall gentle slopes rising above the glistening water and interesting volcanic shapes planted with grapes and press-houses. In the villages whitewashed, adorned gables, vaulted porches catches the eyes of the visitors together with colourful stone walls emerging from beneath the crumbling mortar.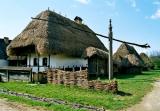 The Upper-Tisza regional unit represents the folk architecture of the inhabitants living in the north-eastern corner of the country, a territory wedged between Slovakia, the Ukraine and Romania.

further exhibitions