Hungarian Open Air Museum
- Szentendre
Address:

2000, Szentendre Sztaravodai út

Phone number:

(26) 502-500, (26) 502-501

Opening hours:

01.11-27.03.: Sat-Sun 10-16

01.04-31.10.: Tue-Fri 9-17

12-13.11.: 9-18
The Open Air Museum of Szentendre is the central open air collection of Hungary. The mostly original buildings and objects represent the popular architecture of various Hungarian regions and the culture of the inhabitants of villages and small towns, from the end of the 18th century up to the first third of the 20th century. In each region units visitors can also learn about the natuaral environment and flora of the region.

So far we have completed four groups of buildings, which are: the Upper-Tiszanian region, the Kisalföld (small Hungarian plain), the West-Trans-Danubian region, Bakony area and Upper Balaton. A market town of the great Hungarian plains is now under construction. An animal farm aslo belongs to it, where visitors can see all sorts of domestic animals, too.

Visitors can sense the athmosphere of the original villages, as they walk up and down the streets and among the workshops, buildings and yards. Visitors can learn about crafts rare or completely forgotten by today. Traditional feasts, habits and foods of the village society are also represented.

We have been making serious efforts to create a "living museum" by the "speach" of the items we exhibit. Besides looking, visitors can also take part in our programmes in order to discover the rich treasury of our popular arts and traditions.
Permanent exhibitions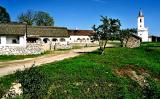 Bakony evokes hills covered with woods, while Balaton-Uplands recall gentle slopes rising above the glistening water and interesting volcanic shapes planted with grapes and press-houses. In the villages whitewashed, adorned gables, vaulted porches catches the eyes of the visitors together with colourful stone walls emerging from beneath the crumbling mortar.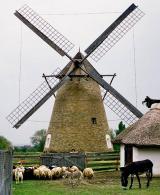 The Great Hungarian Plain is generally considered as the typical Hungarian region. The best known Hungarian words all over the world – puszta, csárda, betyár, gulyás, paprika – are also connected here. Specific natural formations of this territory are the bleak flatland with its alkaline soil, the mirage, the sand drift, or the shallow waters and thick reeds providing home for a colourful avifauna.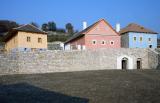 Upland is the historical name for the territory of the northern mountain range. The market towns, emerging in the region between the rivers Ipoly and Bodrog are the characteristic settlements of the area. Their privileged position (rights for having markets, electing magistrates, free options to move and inherit) differentiated them from the serfs of the neighbouring villages.

further exhibitions