Hungarian Open Air Museum
- Szentendre
Address:

2000, Szentendre Sztaravodai Ăşt

Phone number:

(26) 502-500, (26) 502-501

Opening hours:

01.11-27.03.: Sat-Sun 10-16

01.04-31.10.: Tue-Fri 9-17

12-13.11.: 9-18
Visitors can sense the athmosphere of the original villages, as they walk up and down the streets and among the workshops, buildings and yards. Visitors can learn about crafts rare or completely forgotten by today. Traditional feasts, habits and foods of the village society are also represented.

Permanent exhibitions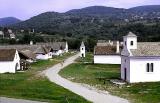 The two rows of houses facing each other in the regional unit are definitely different: on one side there are stately brick buildings while on the other humble, earthen walled, thatched or reed covered ones can be seen. The exhibition's aim is to reflect the ethnographic versatility of Kisalföld through its traditions and changing.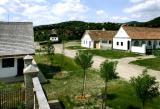 Southern Transdanubia, i.e. Baranya, Somogy, Tolna and Zala Counties used to be a densely populated area, strewn by small villages, the greater part of which lost its population during the Turkish occupation. Since the 16th century Serbians, Catholic Serbians, Croatians and Hungarians have coexisted in this region. The tradition of busójárás, having been a famous carnival custom for a long time in Mohács, is of Croatian origin.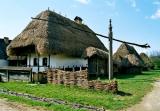 The Upper-Tisza regional unit represents the folk architecture of the inhabitants living in the north-eastern corner of the country, a territory wedged between Slovakia, the Ukraine and Romania.

further exhibitions