Hungarian Open Air Museum
- Szentendre
Address:

2000, Szentendre Sztaravodai út

Phone number:

(26) 502-500, (26) 502-501

Opening hours:

Temporarily closed.
Visitors can sense the athmosphere of the original villages, as they walk up and down the streets and among the workshops, buildings and yards. Visitors can learn about crafts rare or completely forgotten by today. Traditional feasts, habits and foods of the village society are also represented.

Permanent exhibitions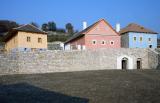 Upland is the historical name for the territory of the northern mountain range. The market towns, emerging in the region between the rivers Ipoly and Bodrog are the characteristic settlements of the area. Their privileged position (rights for having markets, electing magistrates, free options to move and inherit) differentiated them from the serfs of the neighbouring villages.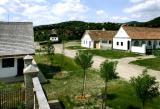 Southern Transdanubia, i.e. Baranya, Somogy, Tolna and Zala Counties used to be a densely populated area, strewn by small villages, the greater part of which lost its population during the Turkish occupation. Since the 16th century Serbians, Catholic Serbians, Croatians and Hungarians have coexisted in this region. The tradition of busójárás, having been a famous carnival custom for a long time in Mohács, is of Croatian origin.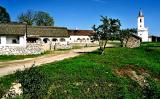 Bakony evokes hills covered with woods, while Balaton-Uplands recall gentle slopes rising above the glistening water and interesting volcanic shapes planted with grapes and press-houses. In the villages whitewashed, adorned gables, vaulted porches catches the eyes of the visitors together with colourful stone walls emerging from beneath the crumbling mortar.

further exhibitions