Hungarian Open Air Museum
- Szentendre
Address:

2000, Szentendre Sztaravodai út

Phone number:

(26) 502-500, (26) 502-501

Opening hours:

Temporarily closed.
Visitors can sense the athmosphere of the original villages, as they walk up and down the streets and among the workshops, buildings and yards. Visitors can learn about crafts rare or completely forgotten by today. Traditional feasts, habits and foods of the village society are also represented.

Permanent exhibitions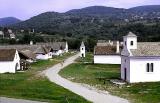 The two rows of houses facing each other in the regional unit are definitely different: on one side there are stately brick buildings while on the other humble, earthen walled, thatched or reed covered ones can be seen. The exhibition's aim is to reflect the ethnographic versatility of Kisalföld through its traditions and changing.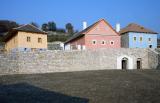 Upland is the historical name for the territory of the northern mountain range. The market towns, emerging in the region between the rivers Ipoly and Bodrog are the characteristic settlements of the area. Their privileged position (rights for having markets, electing magistrates, free options to move and inherit) differentiated them from the serfs of the neighbouring villages.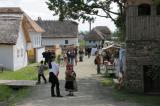 The North-Hungarian Village Region was ceremoniously opened on 25 June 2010. It is to deal with the traditional architecture and lifestyle in the Ipoly and Bodrog Interfluve area. The setting consists of 12 houses and 26 outbuildings, with 5000 original artefacts.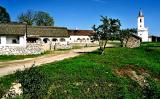 Bakony evokes hills covered with woods, while Balaton-Uplands recall gentle slopes rising above the glistening water and interesting volcanic shapes planted with grapes and press-houses. In the villages whitewashed, adorned gables, vaulted porches catches the eyes of the visitors together with colourful stone walls emerging from beneath the crumbling mortar.

further exhibitions