Ópusztaszer National Historic Memorial Park
- Ópusztaszer
Address:

6767, Ópusztaszer Szoborkert 68.

Phone number:

(62) 275-133 /103, (62) 275-133 /104

Opening hours:

01.04-30-10.: Tue-Sun 10-18

01.11-30.03.: Tue-Sun 10-16 (Skanzen, external exhibiton closed)

The current fare for those interested informed about the institution's website: www.opusztaszer.hu
The first windmill was built in the first half of the 18th century in Hungary. The Holland type windmill spread around the 1790-1800 in Hungary. Most of them were situated in the Great Planes and between the Duna and Tisza.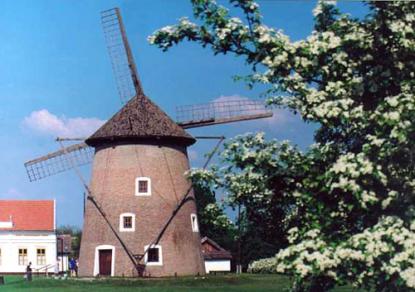 Szentes was built close to the river Tisza. Because of this even in the 1850's grain was being ground in ship mills and in dry mills operated by horses only in two mills. By 1865, there were 12 mills at the outskirts and 4 in the homesteads.
A farmer built the four storied mill of Szentes moved to the open-air collection in 1866-67.
The advantage of the mill with tower was that its top could be turned thus the sails turned in the direction of the wind.
The mill of Szentes worked with two pairs of grind. The flour was the so-called second flour, which meant that the flour was not separated. The sieves were only used from the 1800's.
There were 30 windmills in Szentes in 1875 but by 1896, only 13 functioned. The windmills were ignored after the steam mills were began to use. The old windmills were only used the grind corn or barley.
The windmill was declared national monuments in the 1950's. It was moved to the memorial park in 1986-87.