Ópusztaszer National Historic Memorial Park
- Ópusztaszer
Address:

6767, Ópusztaszer Szoborkert 68.

Phone number:

(62) 275-133 /103, (62) 275-133 /104

Opening hours:

Temporarily closed.
Anonymus - whose statue is seen in the memorial park - wrote the book Gesta Hungarorum, according to which the leaders of the Hungarian tribes camped in this region for 34 days in order to determine the inner order of the new country. That is why the general public think of this place as the scene of the first parliament of the settlers.

Permanent exhibitions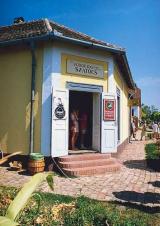 The small shops and the bakeries were necessary part of the people of the villages and county towns. They were also important part of the sight of the settlements. The building in the collection originally was a peasant house of Tápé. In the 1910's a Jewish family bought it and converted the room facing the street into a grocery.

further exhibitions