Ópusztaszer National Historic Memorial Park
- Ópusztaszer
Address:

6767, Ópusztaszer Szoborkert 68.

Phone number:

(62) 275-133 /103, (62) 275-133 /104

Opening hours:

01.04-30-10.: Tue-Sun 10-18

01.11-30.03.: Tue-Sun 10-16 (Skanzen, external exhibiton closed)

The current fare for those interested informed about the institution's website: www.opusztaszer.hu
Anonymus - whose statue is seen in the memorial park - wrote the book Gesta Hungarorum, according to which the leaders of the Hungarian tribes camped in this region for 34 days in order to determine the inner order of the new country. That is why the general public think of this place as the scene of the first parliament of the settlers.

Permanent exhibitions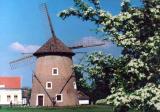 The first windmill was built in the first half of the 18th century in Hungary. The Holland type windmill spread around the 1790-1800 in Hungary. Most of them were situated in the Great Planes and between the Duna and Tisza.

In the neighbourhood of the exhibition titled 'Forest as the temple of nature' a yurt stands. The visitors may see an extremely interesting exhibiton in the pavilion where two thousands years of the history of the Hungarians and nature is overviewed.

further exhibitions