Ópusztaszer National Historic Memorial Park
- Ópusztaszer
Address:

6767, Ópusztaszer Szoborkert 68.

Phone number:

(62) 275-133 /103, (62) 275-133 /104

Opening hours:

01.04-30-10.: Tue-Sun 10-18

01.11-30.03.: Tue-Sun 10-16 (Skanzen, external exhibiton closed)

The current fare for those interested informed about the institution's website: www.opusztaszer.hu
Anonymus - whose statue is seen in the memorial park - wrote the book Gesta Hungarorum, according to which the leaders of the Hungarian tribes camped in this region for 34 days in order to determine the inner order of the new country. That is why the general public think of this place as the scene of the first parliament of the settlers.

Permanent exhibitions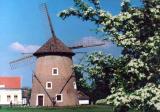 The first windmill was built in the first half of the 18th century in Hungary. The Holland type windmill spread around the 1790-1800 in Hungary. Most of them were situated in the Great Planes and between the Duna and Tisza.

The village hall was the headquarters of the delegates and leadership. Usually it was built in the middle of the village, close to the church. The village hall of Tömörkény built in 1895-96 was moved over to the open air collection. The eclectic building was partly built in the Classicist style characteristic at the end of the 19th century. By this building, the skanzen has a more county town quality.

Among the towns of the beginning of the 20th century, Szeged had the largest population living in homesteads surrounding the town. In 1930 over 45 000 people lived in 10 000 homesteads of 10-15 acres around Szeged. The homestead we present at our exhibition, the placement and characteristics of the buildings was significant at the turn of the 19-20th centuries. The premises of the house followed the room-kitchen-room-chamber order.

further exhibitions