√ďpusztaszer National Historic Memorial Park
- √ďpusztaszer
Address:

6767, √ďpusztaszer Szoborkert 68.

Phone number:

(62) 275-133 /103, (62) 275-133 /104

Opening hours:

01.04-30-10.: Tue-Sun 10-18

01.11-30.03.: Tue-Sun 10-16 (Skanzen, external exhibiton closed)

The current fare for those interested informed about the institution's website: www.opusztaszer.hu
Anonymus - whose statue is seen in the memorial park - wrote the book Gesta Hungarorum, according to which the leaders of the Hungarian tribes camped in this region for 34 days in order to determine the inner order of the new country. That is why the general public think of this place as the scene of the first parliament of the settlers.

Permanent exhibitions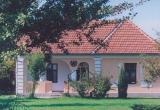 The exhibition presenting the flora and fauna of the biggest conservation area of Csongrád County is located in the office of Pirtó. The research of the conservation area began 100 years ago.

The material displayed in the showcase of the cafe of the museum presents the life of the ethnic groups belonging to the Finn-Ugor language family.

The Hungarian nation was given a large number of talented people by faith. The exhibition is striving to present these influential figures of history, off course only the most significant figures are shown.

further exhibitions