Petőfi House and Memorial Museum
- Kiskőrös
Museum tickets, service costs:
| | | |
| --- | --- | --- |
| Ticket for adults | 500 HUF | |
| Ticket for students | 250 HUF | |
| Ticket for pensioners | 250 HUF | |
In this room we try to represent the life work of Sándor Petőfi. The dark room symbolizes the stage of a theatre, of which the poet steps out unexpectedly. The glass cases faithfully represent the birds and the flora of the region. This provides an emotional preparation for the poems of the poet written about the landscape.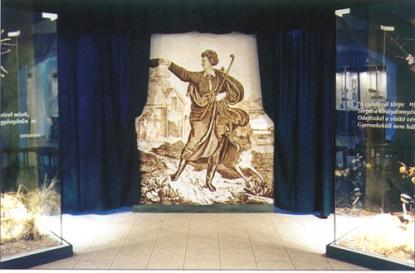 A corner is commetted to the wife and child of the poet, the documents of the schools of the poet, his theatrical career, works published in his life, and the circumstances of his disappeareing. We can learn about the work of the poet, the history, culture and fashion of the middle of the 19th century. The soul of the exhibition is the computerized processing of the lifework of the poet, in which we can learn about the regional research results as well. The programme provides an acustic and a visual experience at the same time.
(Text: Mrs. Kispálné dr. Ilona Lucza)