Petőfi House and Memorial Museum
- Kiskőrös
Address:

6200, Kiskőrös Petőfi tér 5.

Phone number:

(78) 312-566

Opening hours:

Temporarily closed.
The house of the poet's birth was kept in its original state. Moreover, a statue park for translators, which is even unique to Europe, and a literary museum (involving the small galery) were also established there.

Permanent exhibitions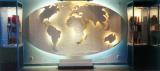 A globe streched on the wall serfice represents the cult of Petőfi's poetry. There is a list on it of the countries which can read this poetry in their mother tongue. By the side of it there are 4 glasscases demonstrating the foreign Petőfi-publications.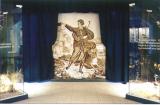 In this room we try to represent the life work of Sándor Petőfi. The dark room symbolizes the stage of a theatre, of which the poet steps out unexpectedly. The glass cases faithfully represent the birds and the flora of the region. This provides an emotional preparation for the poems of the poet written about the landscape.

further exhibitions