Petőfi House and Memorial Museum
- Kiskőrös
The house of the poet's birth was kept in its original state. Moreover, a statue park for translators, which is even unique to Europe, and a literary museum (involving the small galery) were also established there.

Permanent exhibitions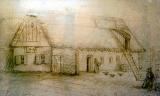 The popular monument building (of three divisions, mud wal and thatched roof) was opened by Mór Jókai in 1880. The house had been renovated and the furniture of the family brought up from Budapest. The dream was brought about by 1953.

further exhibitions