Museum of Textil And Clothing Industry (Textilmuseum)
- Budapest
Address:

1036, Budapest Lajos u. 138.

Phone number:

(1) 250-1020

Opening hours:

Tue-Sun 10-18
The museum functions in the ex-residency of one of the most flourishing textile businesses of the past, in the main building of the Goldberger Company founded in 1784. In the ground floor of the more then 200-year-old building there had been a clothe-painting business going on, and the first floor was used by the Goldberger family. In the continuously expounding factory there were made pressed textiles, a number of which were meant for European export.

Permanent exhibitions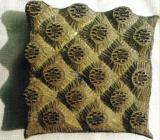 Textile pressing means the coloring and patterning of textile with tools. It all goes back to primitive traditions: primitives colored and ornamented their own bodies with tools made of pumpkins, wood etc.

The new permanent exhibition "Goldberger ..." demonstrates the plant that once began as manufactory with only a few people working there, which successive generations of the family constantly modernized and developed unti l products from the factory were world-renowned.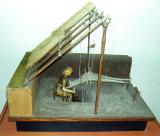 The store of the Fibre Museum holds several large machines used in textile production. They will be shown in the exhibition ward to be reconstructed. In the meantime, scale models, original sewing machines and authentic copies will present techniques used in textile production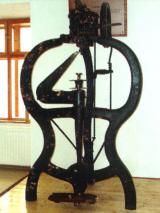 The exhibition presents the last pieces of textile manufactures. Tutyi was made on production lines in Tamási in the Rittinger Workshop until 1991. Tutyi are the shoes, closed slippers worn by German ethnic groups. The display presents the objects in the order of their manufacturing. 13 machines worked in the original workshop, however, we only show the most interesting ones. The raw material of tutyi, wool, was washed and separated, pre-carded and the so-called line came off the endcontainers.

further exhibitions