Address:

1223, Budapest Balatoni út - Szabadkai utca sarok

Phone number:

(1) 424-7500

Opening hours:

Mon-Sun 10-sunset
After the change of political system the statues were removed from Budapest's streets to the museum. This is the world's only such collection from the period of communist cultural politics. It's the most exciting outdoor museum in Eastern Europe.

The thought of establishing the Statue Park primarily occurred to László Szörényi literary historian in an article of the Hitel periodical in 1989. However, at that time he suggested forming a national Lenin-garden where statues of Lenin would be collected from all over Hungary.

During the change of regime in 1989 and 1990 many statues erected in Budapest were connected to the previous political system. On 5th December 1991 the General Assembly of Budapest made a decision about the future of the statues in question. Decisions about the removal (or in some cases the keeping) of the statues were made one by one, considering the suggestions of the districts concerned.

The cultural committee of the Assembly wrote out a proposal for the formation of the Statue Park. The proposal was won by Ákos Előd whose design for the park finally came to accomplishment on an area offered by the 22nd district.

The museum opened in autumn 1993 has still not been fully completed. It still lacks for example the continuous brick wall, the purpose of which would be to give a united frame to the statues. Also, some facilities planned for the service of the visitors have not been put into the system as yet.

Regardless of these deficiencies the park has been continuously receiving its visitors ever since its opening. After the progressive interests characterised the first few weeks, by today the number of visitors coming to the scene has become well balanced. As an average of 25-30 thousands of people (both Hungarian and foreign) visit the place every year.

After the fading of disputes accompanying the times of its establishment, the Statue Park has by now found its regular role in the line of the museums and other sights of Budapest.
Permanent exhibitions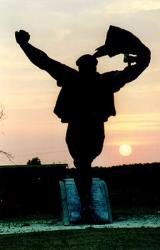 This crude, monumental brick wall has all the characteristic elements of socialist realism (pillars, arches, wall spaces). It wishes to create the illusion that it is a natural successor to classical architecture, but in its own legitimate terms. The imposing facade has only one "small fault" - the building behind it is missing.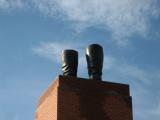 Monumental boots of Stalin symbolising dictatorship and its failure are in the centre of the exhibition. These are the world-wide known symbol of irrepressible wish for freedom. The location of the exhibition, the Memento Park, recalls symbolic moments for the fight for freedom in three thematic units.

further exhibitions