Address:

1223, Budapest Balatoni út - Szabadkai utca sarok

Phone number:

(1) 424-7500

Opening hours:

Mon-Sun 10-sunset
After the change of political system the statues were removed from Budapest's streets to the museum. This is the world's only such collection from the period of communist cultural politics. It's the most exciting outdoor museum in Eastern Europe.

Permanent exhibitions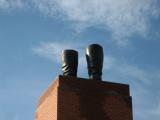 Monumental boots of Stalin symbolising dictatorship and its failure are in the centre of the exhibition. These are the world-wide known symbol of irrepressible wish for freedom. The location of the exhibition, the Memento Park, recalls symbolic moments for the fight for freedom in three thematic units.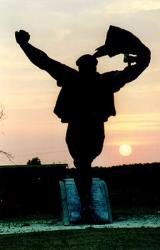 This crude, monumental brick wall has all the characteristic elements of socialist realism (pillars, arches, wall spaces). It wishes to create the illusion that it is a natural successor to classical architecture, but in its own legitimate terms. The imposing facade has only one "small fault" - the building behind it is missing.

further exhibitions