Kisfaludy Memorial House
- Sümeg
Address:

8330, Sümeg Kisfaludy tér 2.

Phone number:

(70) 466-4036

Opening hours:

01.05-30.09.: Tue-Sun 10-18

01.10-30.04.: Mon-Fri 8-16
Sándor Kisfaludy and his wife settled in the house for good in 1800, following the Napoleonic wars. Since they had no descendants, their relatives sold the house to the bishopric of Veszprém. However, in 1944 the house was nationalised. Since 1950 a Kisfaludy Memorial House, since 1990 the Towmn Museum have been functioning here.

Permanent exhibitions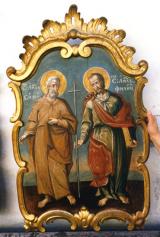 Sümeg is known as one of the important centers of the Hungarian baroque art. Its architectronic excellences - the Pontifical Palace and its outbuildings; the Franciscan and the parish church with the frescos of Franz Anton Maulbertsch - represent an outstanding value of the baroque art. The origin of the wooden statue of St Clara (18th century) can be connected to the Franciscan presence in the town. The large oil picture of bishop Márton Bíró keeps the mempory of the active artistic supporter of the town.

Probably the potter guild was organized by the end of the 18th century. The guild flag seen in the exhibition was made in 1841. The pottery art had its real peak period at the end of the 19th and beginning of the 20th century, when about 80-100 masters were working in 50 workshops of the town. The appearence of the enamel utensils led to the decline of the pottery craft. In 1943 there were only 3 potters working in Sümeg.

Lajos Kocsis (born in 1909) retired miner enthusiastically collected the fossils found in the Bakony for more than 50 years. He donated a significant part of his gigantic collection to the town of Sümeg in 1984. The permanent exhibition represents a rich selection of these items.

Kálmán Darnay's activity made Sümeg the center of the museological life of Trans-Danubia. Being an iron salesman, he was to be trained on his own. During the course of time his fame brought him up to a position among the registered architects. He also pursued writing activities: he wrote studies, dramas, historical novels and articles forthe local paper.

further exhibitions