Ferenc Nádasdy Museum
- Sárvár
The museum was established in 1951, as a result of collection works carried out in Sárvár and its vicinity. A mixture of region history materials were placed in the Nádasdy castle.

Permanent exhibitions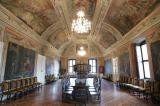 The nicest and most famous room in the Nádasdy Ferenc Museum is the Assembly Hall that was finished in the middle of the 17th century. It was commissioned by the judge Ferenc Nádasdy III whose grandfather intended to remember the famous 'Black Bey' when he had the most outstanding battles his ancestors fought painted on the ceiling by Hans Rudolf Miller of Vienna. The two frescos were finished in 1653 with the figure of the Black Bey on one of them.
In 1769 the then owner Ádám Szily commissioned the most sought for Baroque painter of western Hungary, István Dorffmaister, to paint scenes of the Old Testament on the walls. He painted the stories of David and Goliath or Samson and Delilah, among others. In the latter, the artist also reflected on the circumstances of the work.
A magnificent gilded cabinet ornamented with a landscape painting, with secret drawers, from the 17th century is also to be seen in the Assembly Hall. The museum purchased the cabinet from the Ocskay family.

further exhibitions