Bereg Museum
- Vásárosnamény
Address:

4800, Vásárosnamény Szabadság tér 26.

Phone number:

(45) 470-638, (45) 570-146

Opening hours:

01.04-31.10.: Tue-Fri 8.30-16.30, Sat-Sun 8-16

01.11-31.03.: Tue-Fri 8-16
Csiszár Árpád founded the Beregi Museum of Vásárosnamény in 1963. The collection is hosted by one of the nicest building of the town, the Máthé mansion in 13, Rákóczi Street from 1970. Our collection is listed nationally and internationally due to its vernacular material of a few thousand pieces.

Permanent exhibitions
One of the traditional fancyworks of the Tiszahát people living in Bereg is the mourning funeral fancywork. When trousseaus were prepared for young girls, mourning tablecloths, mourning covers for mirrors and bier covers were already included in it. These textiles were mostly embroidered with black thread. However, the motifs were the usual ones, those that were applied on most of the textiles used on a daily basis.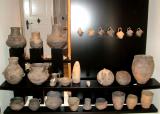 The archaeological exhibition divided into two parts is shown in a large ward and one opening from there. Among the objects there are ordinary objects, jewellery, weapons, tool, objects used during rituals, objects buried with the deceased etc.

A variety of earthenware was necessary to have for every household in the past. As pottery craft was only there in our region until the 17th century, people had to purchase pottery at fairs. Potters from various towns brought their products to fairs in Namény where the fair-goers could select from a variety of pottery.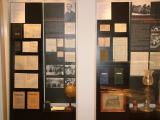 The showing entitled 'The Treasures of Bereg' features historic and social relations of the town of Vásárosnamény first mentioned in a charter from 1214.

further exhibitions