Bereg Museum
- Vásárosnamény
Address:

4800, Vásárosnamény Szabadság tér 26.

Phone number:

(45) 470-638, (45) 570-146

Opening hours:

01.04-31.10.: Tue-Fri 8.30-16.30, Sat-Sun 8-16

01.11-31.03.: Tue-Fri 8-16
Csiszár Árpád founded the Beregi Museum of Vásárosnamény in 1963. The collection is hosted by one of the nicest building of the town, the Máthé mansion in 13, Rákóczi Street from 1970. Our collection is listed nationally and internationally due to its vernacular material of a few thousand pieces.

Permanent exhibitions
The determining role of the Tomcsányi and Lónyai family, as well as the role of the castle in the history of Eastern-Hungary is demonstrated in a separate room The family tree of the academic Pál Tomcsányi and his wife, Sarolta Szemere, an outstanding embroidery artist, is also displayed in this room.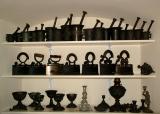 The last ward with around fifty cast iron stoves made in the Bereg region looks at the park behind the building. The ward is also apt to hold workshops and programs of the Museum Friends Association.

Textile has always been part of people's life, from birth to death. Tools made of textile are there everywhere, in households, farming and of course clothing.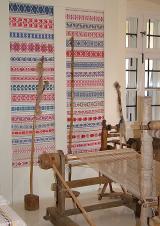 In our region, life was built around fibre works traditionally. The most determining moments of the life of the people who lived in the Bereg Tiszahát were related to textile made with weaving and then ornamented with embroidery.

further exhibitions