Bereg Museum
- Vásárosnamény
Address:

4800, Vásárosnamény Szabadság tér 26.

Phone number:

(45) 470-638, (45) 570-146

Opening hours:

Temporarily closed.
Csiszár Árpád founded the Beregi Museum of Vásárosnamény in 1963. The collection is hosted by one of the nicest building of the town, the Máthé mansion in 13, Rákóczi Street from 1970. Our collection is listed nationally and internationally due to its vernacular material of a few thousand pieces.

Permanent exhibitions
Textile has always been part of people's life, from birth to death. Tools made of textile are there everywhere, in households, farming and of course clothing.

A variety of earthenware was necessary to have for every household in the past. As pottery craft was only there in our region until the 17th century, people had to purchase pottery at fairs. Potters from various towns brought their products to fairs in Namény where the fair-goers could select from a variety of pottery.

The large reception hall leads to the room considering the life of the legendary Calvinist priest, the founder of the museum, Árpád Csiszár (1912-1989). Interesting, often edifying events are highlighted from the life of the priest who set an example with his life to future generations.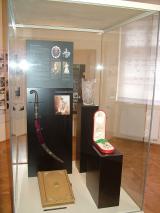 A separate ward presents the relations of the Lónyai and Tomcsányi families who played crucial part in the history of Bereg County. The exhibition presents the family tree of the scholar Tomcsányi Pál and his wife Szemere Sarolta who was familiar with embroidery and other art forms.

further exhibitions