Hungarian National Gallery
- Budapest
Address:

1014, Budapest Szent Gy├Ârgy t├ęr 2.

Phone number:

(1) 201-9082

Opening hours:

Tue-Sun 10-18
The Hungarian National Gallery, Hungary's largest exhibited collection of fine art, is located in the Buda Palace, buildings A, B, C and D.

Permanent collection: middle ages and renaissance antiquities: gothic wooden sculptures and panel paintings: late gothic triptychs: late renaissance and baroque art: 19th and 20th century painting and sculpture.


Permanent exhibitions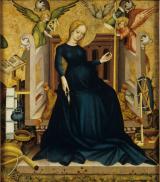 Late medieval wooden sculptures and panel paintings are to be found in two different exhibition spaces. While most of the winged altarpieces that are fully intact are displayed on the first floor, on the ground floor, single-piece works of art, including components of one-time winged altarpieces that now qualify as such, are in the majority. It is here that visitors can see the earliest pieces in the collection: works that date from the 14th century.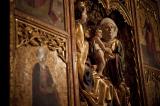 The ground-floor exhibition of wooden sculptures and panel paintings from the Late Middle Ages continues on the first floor, in the former throne room of the palace, and in two connecting rooms. Here a total of fifteen mostly complete winged altarpieces are on display, along with numerous altarpiece fragments. The majority of the works of art on show here are from the early 16th century. In terms of the number of complete altarpieces and their artistic quality, this assemblage is one of the most important of its kind in Europe.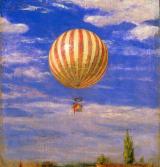 Our exhibition, presenting 19th-century art, surveys the work of almost 100 years, beginning in the late 18th century. Here we can see almost all the important works from the time of National Romanticism that have for generations determined the national visual memory. Including such major emblematic works of historical painting as The Women of Eger, The Mourning of L├íszl├│ Hunyadi and The Christening of Vajk, the most significant historical paintings by Viktor Madar├ísz, M├│r Than, S├índor Liezen-Mayer, Bertalan Sz├ękely, and Gyula Bencz├║r fill two impressive rooms on the first floor.
In the adjacent rooms the visitor can see landscapes by K├íroly Mark├│ as well as major works by J├│zsef Borsos, Mikl├│s Barab├ís, Mih├íly Zichy, Gyula Bencz├║r, and Bertalan Sz├ękely. A separate room presents the work of the greatest renewers of 19th-century Hungarian art: P├íl Szinyei-Merse, Mih├íly Munk├ícsy and L├íszl├│ Pa├íl. The one-time ballroom of the palace displays works of Naturalist and early plein-air painting that in many instances paved the way to Modernism. Works by L├íszl├│ Medny├ínszky, G├ęza M├ęsz├Âly, Lajos De├ík-├ëbner, Simon Holl├│sy, and Istv├ín Cs├│k form the backbone of this unit.

further exhibitions