Hungarian Geographical Museum
- Érd
Address:

2030, Érd Budai út 4.

Phone number:

(23) 363-036

Opening hours:

Temporarily closed.
The building of the museum was built in 1823, the year of the birth of Petőfi. It was built by István Szűcs, which is perceivable on a sign in the hallway down to the cellar. The building functioned as a living quarter until 1960. In this very year the teacher Lajos Szabó tried everything to have the building renovated. This enterprise was successful and since that time this little building serves as our museum.

Lajos Szabó was the great grandson of Lajos Szabó whose wife was Aunt Préci. She was acquainted with Petőfi and she influenced the poet with kindness present in his poems.

The walls, the beams, the doors with the exception of one, even the roof of the building are all original. The house is not too high, it was built in accordance with the average height and the heating capacity of the period.

The museum is made up of four wards. The largest contains the relics and copies in connection with Petőfi and his family.

The bond with the original handwriting of István Petrovics on it and his butcher meat chopper used to be in the museum, but they were moved to the Petőfi Literal Museum. In a smaller ward copies of book covers of the poet are displayed. In the fourth ward furniture, tools, and equipment from the 1860's and the following years are shown.
Permanent exhibitions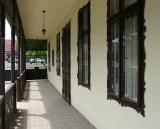 The brand new exhibition at the Hungarian Geographical Museum is the "Local and Sports History Exhibition". The showing deals with the history of the town from the Neolithic to the 20th century through archaeological, ethnographical and local history related finds and objects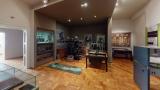 The exhibition opened in 1988 honors the Hungarian scientists who took part in the researches in connection with Hungary beside the scientific discoveries of our country. The material of the show does not only come from the present area of Hungary since our past is connected to the whole Carpathian Basin.

further exhibitions