Bela Dornyay Museum
- Salgótarján
Address:

3100, Salgótarján Múzeum tér 2.

Phone number:

(32) 520-700

Opening hours:

Mon-Fri 9-17, Sat 9-16
According to our sources the collection of Salgótarján was put together in 1923. Dr. Béla Dornyay secondary school teacher wrote in 1929 that a small town museum was being form at the local council house. A series of articles was also published in 1926 in the periodical Munka.

On 24th June 1927 the Salgótarján Town Museum published a plackard with the following text written on it: Don't forget the cause of socieaty and culture. Start a new movement on behalf of the foundation of the Salgótarján Museum However, the desired public collection could not be formed, for the case was not supported in the expected way.

At the time there was a mineral collelction in the town, too, functioning in the building of the Mining Authority.

The Nógrád county council established the working-class movement Museum of Nógrád county. During the work of collecting the materials connected to the history of the working class movement of the county, the history of Salgótarján and the whole county was also dealt with.

The museum started its activities in the former Jankovich-mansion, under 68 Rákóczi street. However, the institute had to move to one of the wing buildings of the county hospital in 1969. In 1999 a memorial stone was elected in the place of the pulled down building.

New plans for the establishment of the new Working Class Movement Museum of Salgótarján were made in 1966. Final plans of the museum were defined by architect Géza Magyar. Building works started in 1975, and the new museum and its exhibition were opened on 3rd October 1980.

From 1980 the rebuilt museum extended its sphere of activities, and specialized for the collection of material and historical items of the modern age.


Permanent exhibitions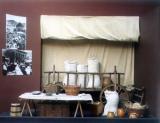 The permanent exhibition of the museum represents the history of Nógrád county in 7 large units. The introductory part of the exhibition demonstrates the versatile activities of the people living here from the migration of nations to the Hungarian conquest.

further exhibitions