Bela Dornyay Museum
- Salgótarján
Address:

3100, Salgótarján Múzeum tér 2.

Phone number:

(32) 520-700

Opening hours:

Mon-Fri 9-17, Sat 9-16
From 1980 the rebuilt museum extended its sphere of activities, and specialized for the collection of material and historical items of the modern age. In the literary history collection there are a number of Mikszáth and Madách relics. By means of the inheritance of Ernő Mihályfi the fine arts collection significantly increased.

Permanent exhibitions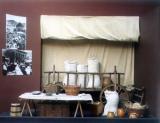 The permanent exhibition of the museum represents the history of Nógrád county in 7 large units. The introductory part of the exhibition demonstrates the versatile activities of the people living here from the migration of nations to the Hungarian conquest.

further exhibitions