Municipal Museum of Art - Radnai Collection
- Győr
Address:

9021, Győr Király u. 17.

Phone number:

(96) 322-695, (20) 532-2644

Opening hours:

Temporarily closed.
Permanent exhibitions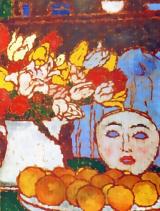 The acquisition of the private collection of Dr. Radnai Béla and the design of the exhibition ward where it is shown, the Esterházy Palace, was the work of the Mayor Kolozsváry Ernő (1990-1994. He himself was a collector of artworks. The Mayor Balogh József fulfilled the work of his predecessor with opening the exhibition on 2, December 2005. Besides many classic works of modern Hungarian art, we also show works born in the first half of the 20th century.