Municipal Museum of Art - Radnai Collection
- Győr
Address:

9021, Győr Király u. 17.

Phone number:

(96) 322-695, (20) 532-2644

Opening hours:

Tue-Sun 10-18
The Municipal Museum first opened on 11 November 1994 in the tarnished national building known as Ispita. In 1997 the Esterházy Palace, where the official residence is at present, was acquired. In 1998 the Margit Kovács and the Miklós Borsos permanent exhibitions were added to our programs in the original edifices. In 1999 we broadened our programs by the Graphics Workshop of Győr, in 2000 the first creative house, in 2004 the second creative house. From 2006 we also make use of the building of the Synagogue together with the university.

Permanent exhibitions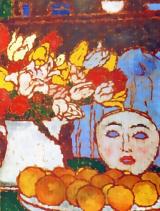 The acquisition of the private collection of Dr. Radnai Béla and the design of the exhibition ward where it is shown, the Esterházy Palace, was the work of the Mayor Kolozsváry Ernő (1990-1994. He himself was a collector of artworks. The Mayor Balogh József fulfilled the work of his predecessor with opening the exhibition on 2, December 2005. Besides many classic works of modern Hungarian art, we also show works born in the first half of the 20th century.

further exhibitions