Collection of Applied Folk Art
- Kecskemét
Address:

6000, Kecskemét Serfőző utca 19.

Phone number:

(76) 327-203, (76) 506-108

Opening hours:

01.03-31.10.: Tue-Sat 10-17

01.11-28.02.: Tue-Fri 10-16

Closed: holidays, Monday, Sunday end 2013. 21.12-2014. 02.01.
Permanent exhibitions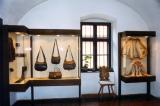 We can find a rich variety of popular hand craft items in our museum. We can see carved and painted furniture, horse hair jewelries, wrought iron objects, ornamented eggs, falk music instruments and many other outstanding items of the popular arts of past decades.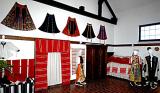 The permanent exhibition was extended by the heritage of a teacher, the so-called Zana-collection. The most valuable items of the collection are displayed on the exhibition representing the popular arts of Kalotaszeg.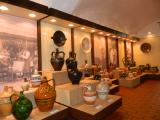 A Népi Iparművészeti Gyűjtemény állandó kiállításának egyik legkedveltebb része a fazekasságot bemutató terem volt. Ezt hosszú gyűjtő és kutatómunka után sikerült megújítani