Hungarian National Gallery
- Budapest
Address:

1014, Budapest Szent György tér 2.

Phone number:

(1) 201-9082

Opening hours:

Tue-Sun 10-18
2021.11.05.
-
2022.02.13.
Museum tickets, service costs:
| | | |
| --- | --- | --- |
| Individual ticket for adults | 3200 HUF | / capita |
| Individual ticket for students | 1600 HUF | |
| Individual ticket for pensioners | 1600 HUF | / capita |
| Video | 1000 HUF | |
Alexandre Hollan's ties with the Museum of Fine Arts look back on a history of two decades. Since 2001 he has made several donations of his works to our museum. Exactly ten years ago, in 2011, the Museum of Fine Arts displayed close to one hundred of his works at a large-scale exhibition. In 2017, the artist made another significant donation comprising more than 100 of his pieces. This material now enriches the Hungarian National Gallery's Collection of International Art after 1800 and its Collection of Prints and Drawings, while forming an important unit within the collection of works by twentieth-century Hungarian émigré artists. The dossier exhibition in the Hungarian National Gallery presents a smaller selection of Hollan's works, which recently entered our collection.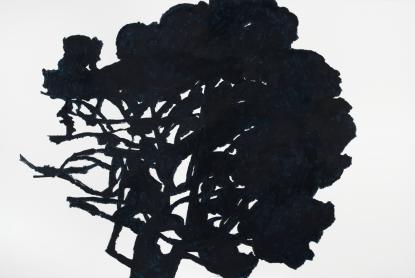 Sándor Hollán (Alexandre Hollan) emigrated from Hungary in 1956 and has lived in France ever since. He studied under Roger Chapelain-Midy at the painting workshop of the École Nationale Supérieure des Beaux-Arts in Paris, after which he completed his degree at the department of graphic art of the École Nationale Supérieure des Arts Décoratifs. In the period that followed he spent several months every year travelling in nature, making observations, drawings and paintings. Ever since his main motif has been the tree, which he mostly depicts in cycles executed in India ink or charcoal. His period of wandering ended in 1984. He slowed down in his work, which thus became more concentrated. From this time onwards he began painting still lifes, too, whose tones tending towards complete darkness lead into a profound inner world. The compositions referred to in neo-Latin languages as "dead nature" (nature morte, natura morta) were renamed by Hollan as "vie silencieuse", thus providing the French translation for the Hungarian phrase csendélet (silent life) linked to the Dutch and German tradition.
Hollan's working method stands out as rather peculiar among that of contemporary painters: in every single picture he forgoes the opportunity to represent self-reflexive gestures in order to make the object itself visible. Experimenting on the borderlines of visibility, he forms a strongly intuitive attachment to what he sees, awakening the deepest abilities of the eye.
Besides the vessels and fruit in his still lifes, his most frequent "models" are trees, which he depicts every summer set in the distinct Mediterranean landscape of Languedoc in southern France. The tree, which has been seen for millennia as a living being growing in the proximity of people and often assigned cultic iconographic symbolism, has become the key inspiration, or "master" in Hollan's painting.
To quote a title frequently used by the artist, his pictures featuring the tree motif are imprints of the fleeting but profound experience of "the motion of life".
Hollan's art provides the opportunity to expand our connection with what is visible: in his notes he writes, "I'm seeking something I cannot see" and "I turn to what is invisible to be able to see". These thoughts have been guiding his brush as the key aspects of his inner quest.