Bihar Museum
- Berettyóújfalu
Address:

4100, Berettyóújfalu Kálvin tér 1.

Phone number:

(54) 402-390, (54) 500-340

Opening hours:

Temporarily closed.
recommended age:
10 - 12 year
Museum pedagogy contact person
Dr. Krajczárné Sándor Mária
+36(54)402390
Equipment in the institute
Professionals:

museologist
Rooms:

activity room
Leisure equipment:

cloakroom,

medical office nearby,

portable chairs,

rest stop,

restaurant nearby,

seat cushions
Traffic:

museum map,

parking lot
Related exhibitions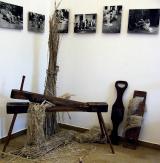 The exhibition shows female dresses from the life of traditional peasantry focusing on the processing of hemp that was performed by women performed almost completely. Hemp in the territory of Bihar was an important plant until the 50's. The basic material of clothing was made of hemp, as well as tablecloths, bed sheets, towels etc. The sacks, canvas necessary in farming were also prepared of hemp. The exhibition presents the tools of hemp processing while the process itself is shown in photos.

further exhibitions