Address:

1085, Budapest József körút 68. (a Nap utca sarkán)

Phone number:

(20) 615-0766

Opening hours:

Tue-Fri 11-18, Sat-Sun 11-15
I have been collecting - through changing letters with the highest leaders of foreign countries - the flags and arms of the world economic units. Supported by the Cultural Centre and the local council of Józsefváros, the first Permanent Flag Exhibition of the world was opened on 20th October 1995. The Council provided a new, bigger place for me in April, 1998 (8th District, 68 József krt.). The collection has been visited by both local and foreign visitors from all over the world.

The collection represents the flags, arms and other interesting materials of the 5 continents. Since 1997 I have been collecting the symbols of Hungarian settlements, too.

Several times I exhibited the materials of other collectors, such as coins and bank notes from all the countries of the world, or items of historical interest from Transylvania, Australia, etc.

The exhibition gives place for various monthly programmes, such as the "Hymns, countries, and flags" series, etc.


Permanent exhibitions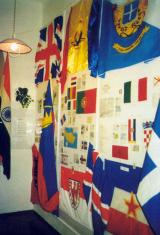 The flags exhibited in the museum follow each other in the following order: Europe, Asia, Africa, America, Australia. Most of the objects are still used today, but we also display such emblems which reflect political changes in the history of various lands.

further exhibitions