Address:

1085, Budapest József körút 68. (a Nap utca sarkán)

Phone number:

(20) 615-0766

Opening hours:

Tue-Fri 11-18, Sat-Sun 11-15
Supported by the Cultural Centre and the local council of Józsefváros, the first Permanent Flag Exhibition of the world was opened on 20th October 1995. The collection represents the flags, arms and other interesting materials of the 5 continents.

Permanent exhibitions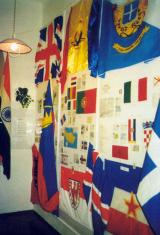 The flags exhibited in the museum follow each other in the following order: Europe, Asia, Africa, America, Australia. Most of the objects are still used today, but we also display such emblems which reflect political changes in the history of various lands.

further exhibitions