Municipal Museum of Pásztó
- Pásztó
Address:

3060, Pásztó Múzeum tér 5.

Phone number:

(32) 460-194

Opening hours:

Mon-Fri 8-16, Sat 9-15
There has been a museum in Pásztó since 1984. This is when the schoolmaster's house was opened. This was the first exhibition hall of the musuem.

The reconstruction work of the medieval glassworks in 1989. In the monastery the Benjámin Rajeczky memorial room and the first exhibition of the cistercian order. The library of the town had been functioning in the museum building till 1997. In October 1997 the permanent exhibition entitled "To the memory of Kálmán Csohány".

In December 1997 we opened the permanent exhibition entitled "The history of the cistercian order". The monastery, the house of the schoolmaster, the glassworks and the smithery were revealed by dr. Ilona Valter, who also gave much assistance in the arrangement of the exhibitions.

Since 1998 a natural science exhibition and the "Pictures from the history of Pásztó" permanent exhibition has been seen. Our youngest permanent exhibition is that of the Csohány Gallery, which was opened in December 2001.

In 1999 the Ministry of National Cultural Heritage awarded the the Museum of the Year prize (placed third) to the Pásztó Museum.

Permanent exhibitions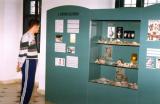 After the change of regime the Hungarian Cistercian Order demanded and gained back the monastery building, which was handed over to Pásztó for museologic purposes. One of the conditions was to demonstrate the history and monasteries of the Hungarian Cistercian Order.

further exhibitions