Municipal Museum of Pásztó
- Pásztó
Address:

3060, Pásztó Múzeum tér 5.

Phone number:

(32) 460-194

Opening hours:

Temporarily closed.
There has been a museum in Pásztó since 1984. This is when the schoolmaster's house was opened. This was the first exhibition hall of the musuem.

The reconstruction work of the medieval glassworks in 1989. In the monastery the Benjámin Rajeczky memorial room and the first exhibition of the cistercian order. The library of the town had been functioning in the museum building till 1997. In October 1997 the permanent exhibition entitled "To the memory of Kálmán Csohány".

In December 1997 we opened the permanent exhibition entitled "The history of the cistercian order". The monastery, the house of the schoolmaster, the glassworks and the smithery were revealed by dr. Ilona Valter, who also gave much assistance in the arrangement of the exhibitions.

Since 1998 a natural science exhibition and the "Pictures from the history of Pásztó" permanent exhibition has been seen. Our youngest permanent exhibition is that of the Csohány Gallery, which was opened in December 2001.

In 1999 the Ministry of National Cultural Heritage awarded the the Museum of the Year prize (placed third) to the Pásztó Museum.

Permanent exhibitions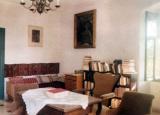 The Rajeczky Benjámin memorial hall was opened on 11th November 1992. Rajeczky Benjámin had been an excellent citizen of the town. He was born in 1901 in Eger and died in 1989 in Pásztó. He is burried under the gothic bethel of the St.Lőrinc church.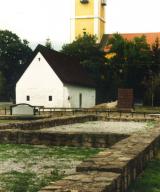 The walls of three settlements were excavated to the South from the glassworks. The baroque monastery was built upon the Southern wing of the third room.

The building has three divisions: the portal leads ibto the kitchen, and the room opening to the North was served as a lard. Herein there were three pieces of grain container dug into the floor. These holes proved a real archaeological sensation, for almost the whole scale of th 15-16th century housekeeping instruments were discovered in hem. Possibly the news of the Turkish approach (1551) made the school master to flee and carefully hide his values in the holes.

further exhibitions