Municipal Museum of Pásztó
- Pásztó
Address:

3060, Pásztó Múzeum tér 5.

Phone number:

(32) 460-194

Opening hours:

Temporarily closed.
The reconstruction work of the medieval glassworks in 1989. In the monastery the Benjámin Rajeczky memorial room and the first exhibition of the cistercian order. The library of the town had been functioning in the museum building till 1997. In October 1997 the permanent exhibition entitled "To the memory of Kálmán Csohány".

Permanent exhibitions
The building has three divisions: the portal leads ibto the kitchen, and the room opening to the North was served as a lard. Herein there were three pieces of grain container dug into the floor. These holes proved a real archaeological sensation, for almost the whole scale of th 15-16th century housekeeping instruments were discovered in hem. Possibly the news of the Turkish approach (1551) made the school master to flee and carefully hide his values in the holes.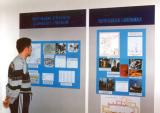 Because of its favourable geographical conditions Pásztó had been inhabited as early as in the prehistoric era. After the Hungarian conquest the region was shifted into the ownership of the Hungarian royal family. In the 12th century there was possibly a monastery functioning in Pásztó.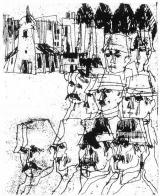 The permanent exhibition of graphic artist Kálmán Csohány was opened in 2001 in a monument building built in the 1870'ies. Since 1990 the general public had been able to find 50 works of the master in two museum rooms. However, thanks to the opening of the galery, now we can see about 150 individual works of the master. Kálmán Csohány wrote about himself in his autobiography as follows.

further exhibitions