Hungarian Railway Historical Park
- Budapest
Address:

1142, Budapest Tatai út 95.

Phone number:

(1) 450-1497

Opening hours:

15.04-02.11.: Tue-Sun 10-18
The Hungarian Railway History Park - the first interactive railway park in Europe exhibits more than 100 railway vehicles on about 70.000 square metres, at the former Northern Towing Establishment.

Permanent exhibitions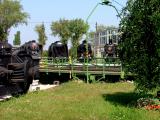 Around the small transfer disc we find those vehicles which are not capable of operation. The small transfer disc used to belong to the 22-stand circular heating house. However, the radial placement of the steam engines still give the atmosphere of the heating house. A technology historical curiosity can also be recognized by the visitor, which is the firelesssteam engine that was used in places sesceptible to explosions.

further exhibitions