Hungarian Railway Historical Park
- Budapest
Address:

1142, Budapest Tatai út 95.

Phone number:

(1) 450-1497

Opening hours:

Temporarily closed.
Permanent exhibitions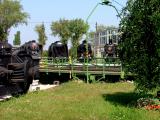 Around the small transfer disc we find those vehicles which are not capable of operation. The small transfer disc used to belong to the 22-stand circular heating house. However, the radial placement of the steam engines still give the atmosphere of the heating house. A technology historical curiosity can also be recognized by the visitor, which is the firelesssteam engine that was used in places sesceptible to explosions.