Geological Museum of Hungary - Geological Institute of Hungary
- Budapest
Address:

1143, Budapest Stefánia utca 14.

Phone number:

(1) 251-0999

Opening hours:

Thu, Sat-Sun 10-16

(Other times are available for groups on prior notice)

Closed on bank holidays!
The royal Deed of foundation of the Geological Institute was registered in 1869. The institution was established through the support of the third geological company in the world - the Hungarian Geological Society. The purpose of the instittute was examine the minerals of the country for the benefit of the government, economy and science. The building of the institute was designed by the renowned architect, Ödön Lechner in the style of the Hungarian secession.

Permanent exhibitions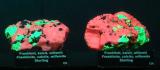 Those minerals are liable to fluorescence which have some defects in their crystal-lattice and the places of defects are filled in by metal atoms. These metal atoms are ready to interact with ultraviolet radiation, their electrons going to higher energy level during to radiation and emitting the fluorescent light when falling back to the original level after the radition has been completed.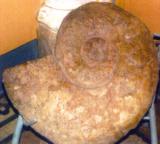 The geological exhibition entitled "The geo-history of Hungary" represents the geological events of a long period.

further exhibitions