Postal Museum of Nagyvázsony
- Nagyvázsony
Address:

8291, Nagyvázsony Temető út 3.

Phone number:

(88) 264-300

Opening hours:

01.04-31.10.: Tue-Sun 10-18
The museum opened in 1968 in the low, beamed rooms and stable of a peasant cottage, now a scheduled building, built about 80 years ago beneath the walls of Kinizsi Castle. The attractive rooms with their tiny windows contain an exhibition of local postal and telecommunications history entitled From Person to Person in Sounds, Symbols, Forces and Fields.

Permanent exhibitions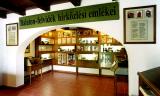 The room opening from the kitchen holds the documents and objects concerning the history of postal services of Nagyvázsony. The post history of the settlement goes back to the 18th century. We show a post box painted by the typical colors of the Habsburg family, the reconstruction of the post car uniforms and letters.

further exhibitions