Natural History Museum of Bakony Mountains
- Zirc
Address:

8420, Zirc Rákóczi tér 3-5.

Phone number:

(88) 575-300

Opening hours:

Temporarily closed.
Permanent exhibitions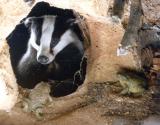 The achievments, that is all the geological, botanic and zoological materials collected during the past decades are displayed in our permanent exhibitions. In the glass-case between the three dioramas we exhibit the typical species of the beech and oak woods with the help of the coloured watercolour replicas of Vera Csapody.