Natural History Museum of Bakony Mountains
- Zirc
Address:

8420, Zirc Rákóczi tér 3-5.

Phone number:

(88) 575-300

Opening hours:

Temporarily closed.
The museum was established in 1972. The roots of the current museum go back to the museums of Veszprém County and later Bakony Museum founded by Dezső Laczkó in 1902.

Permanent exhibitions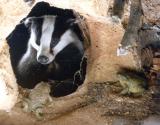 The achievments, that is all the geological, botanic and zoological materials collected during the past decades are displayed in our permanent exhibitions. In the glass-case between the three dioramas we exhibit the typical species of the beech and oak woods with the help of the coloured watercolour replicas of Vera Csapody.

further exhibitions