Address:

7149, Báta Fő u. 86.

Phone number:

(74) 490-558, (20) 576-4130

Opening hours:

Temporarily closed.
The village of Báta can be approached from road no. 46 in Tolna County. It is 34 kilometers from Szekszárd, 19 kms from Mohács. The village is in the south corner of Sárköz where the Danube and Sárköz meet. Its region was a flood area until the regulation of the Danube. The forest of Gemenc is around the village. The region is rich in wild animals; the eagle and the black stalk are protected animals of the region.

Permanent exhibitions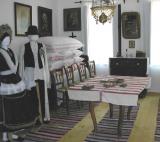 The country house presents the characteristic courtyard of Báta in the 19th century. The house is furnished completely by the tools of work, and woodworks, folk clothing, ornaments, and the artworks of vernacular art from the textile to the embroidery.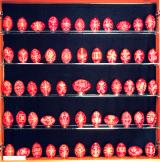 The egg is one of the oldest symbols of rebirth and proliferation. This is the most perfect form made by nature. It hides new life and with this, the secret of birth and creation. It is able to describe the greatness of the universe and the fathomless state of transition from lifeless to life. This is why eggs are given as present ever since the beginning of humanity.

further exhibitions