Ferenc Kubinyi Museum
- Szécsény
Address:

3170, Szécsény Ady Endre u. 7.

Phone number:

(32) 370-143

Opening hours:

Tue-Fri 10-16, Sat-Sun 10-18
István Koháry began renovating the outer walls and the castle building in 1960. The lord lieutenant János Forgách and his wife, Margit Cziráky bought back most of the estate from Koháry by 1739. In 1753 the youngest son of János Forgách, Zsigmong inherited the estate. The Szécsény Castle was rebuilt in the baroque style in 1750-1760, probably by Zsigmond.

Permanent exhibitions
The second part is centered on a burial ceremony in the Bronze Age. On diorama, we can see women performing ritual around the deceased body. The figures wear original jewelry and objects from the Bronze Age.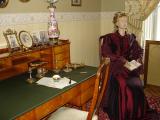 The new interior exhibition is located in the Forgács Castle hosting the Kubinyi Ferenc Museum. We intend to show the old interior of the castle via a female suit made up of three rooms.

The first part of the Prehistoric exhibition shows life in the New Stone Age based on material found in Nógrád County. besides objects, we also show a slide show presenting the life in the little settlement in the New Stone Age. Death is part of life, thus, we also show a reconstructed grave to the audience.

further exhibitions