Semmelweis Museum, Library and Archives of Medical History - Golden Eagle Pharmacy
- Budapest
Address:

1014, Budapest Tárnok u. 18.

Phone number:

(1) 375-9772

Opening hours:

Temporarily closed.
It is not by chance that 18th Tárnok street was chosen as a building for the exhibition, since a chemist' was functioning here right from the middle of the 18th century. The bottom floor of the building was always used for trading purposes. After several restorations it gained its present form during the 18-19th centuries. That is when the officina (the room for customer service) and the laboratory were made.

Permanent exhibitions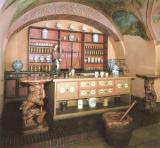 A short walk to the Buda Castle leads to the "Golden Eagle" Pharmacy Museum located in one of the main street, Tárnok utca. The building that houses the pharmacy is a merchant's house from the first half of the 15th century. The Pharmacy Museum presents the history of renaissance and baroque pharmacy.

further exhibitions