Semmelweis Museum, Library and Archives of Medical History - Golden Eagle Pharmacy
- Budapest
Address:

1014, Budapest Tárnok u. 18.

Phone number:

(1) 375-9772

Opening hours:

Temporarily closed.
The collection of the Hungarian chemist history relics was begun by József Ernyey in 1896. In 1905 he suggested that a museum should be established. However, this only came through much later. An exhibition was opened 1948 within the frames of the medical university. Its material was transferred into the ownership of the Semmelweis Medication History Library, in order to form the basic for the exhibition of the Medication and chemist history museum to be founded. At the same time of the opening of the Medication History Museum another work was going on, the result of which was Arany Sas Pharmacy Museum opened in 1974 In a famous building in Buda Castle.

It is not by chance that 18th Tárnok street was chosen as a building for the exhibition, since a chemist' was functioning here right from the middle of the 18th century. The bottom floor of the building was always used for trading purposes. After several restorations it gained its present form during the 18-19th centuries. That is when the officina (the room for customer service) and the laboratory were made.

The exhibition also represents the development of the science of medicine in these two rooms. Written materials and objective relics prove that the pharmacy does not only represent the development of a scientific branch, but also makes up an important part of applied art history as well. The enteriour, the ceramics, wood, glass utensils, the scales, grinders and other ornamented tools are worthy pieces of the Hungarian and the universal artistic heritage.
Permanent exhibitions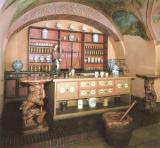 A short walk to the Buda Castle leads to the "Golden Eagle" Pharmacy Museum located in one of the main street, Tárnok utca. The building that houses the pharmacy is a merchant's house from the first half of the 15th century. The Pharmacy Museum presents the history of renaissance and baroque pharmacy.

further exhibitions