Pál Kiss Museum
- Tiszafüred
Address:

5350, Tiszafüred Tariczky sétány 6.

Phone number:

(59) 352-106

Opening hours:

Tue-Sat 9-12, 13-17
The Pál Kiss Museum is one of the oldest rural collection of Hungary. It was founded by Roman Catholic priest Endre Taricky in 1877. At the beginning the collection - named Archeologic Union of the Tisza Region - had about 400 items. The union welcomed all kinds of members, regardless of their religious or social status. Calvinist teacher Béla Milesz and Endre Tariczky contributed much to the functioning of the union for more than three decades.

Permanent exhibitions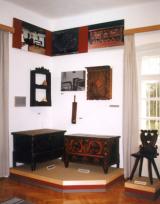 The artisans founded guilds at the beginning of the 19th century. The reason of the development of Tiszafüred into a center of commerce was the strengthening of trade from the middle of the 18th century.

further exhibitions