Túr Pottery Museum
- Mezőtúr
Address:

5400, Mezőtúr Bajcsy-Zsilinszky E.út 41.

Phone number:

(56) 350-174

Opening hours:

01.10-31.03.: Tue-Fri 10-12, 14-16, Sat 10-14

01.04-30.09.: Tue-Sun 10-12, 15-17
Since 1983 the Túr Pottery Museum has been showcasing one of the greatest collections of folk pottery in Hungary - a collection that is unique both in the country and in Europe.

In the Carpathian Basin Mezőtúr was the biggest center of pottery that has produced various kinds of earthenware from the 16th century on. In the early days potters used to manufacture black ceramics. In the 19th century the use of glazes became widespread and the masters commenced fabricating green, yellow and brown potteries of excellent quality, ornamented by plain black lines, flowers or leaves.

The period between 1870 and the turn of the 20th century was the heyday of fictile art in Mezőtúr. At that time, there were nearly one hundred potteries in the town that produced quality earthenware and delivered it to every city and village in the country. One of the most famous of these ceramics was the "korsó", a distinctive type of pitcher made in Mezőtúr which was used for both holding and carrying water.

The most celebrated master potter of the golden age was Balázs Badár (1855-1939), who became well-known far and wide for his unique, art nouveau-style ceramics.

In the 20th century fictile art in Mezőtúr underwent a serious crisis, which came to an end in the 1950's, when potters set up cooperatives and managed to restore the quality of production lost during the war period. They also established first-rate schools in which many of the ceramists of today learned the niceties of the potter's craft.

Nowadays 8-10 potteries are at work in Mezőtúr.

Permanent exhibitions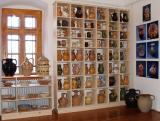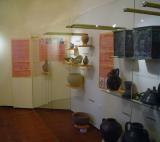 Documents prove that potters surely worked in town even in the 16th century. They formed guilds towards the end of the 18th century and more and more potter workshop opened in town. The most popular pottery was black pottery without enamel. A typical product was a jug after which the potters were named. The use of enamel probably came from Hódmezővásárhely.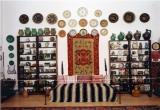 Gyula Ortutay, the ethnographer, began finding a permanent exhibition opportunity supported by the profession and finally did so with the couple Kun.

further exhibitions