Hungarian Museum for Science, Technology and Transport
- Budapest
Address:

1146, Budapest Városligeti körút 11.

Phone number:

(1) 273-3840

Opening hours:

Temporarily closed.
The founding of the museum was connected to the Millennium Exhibition of 1896. Ferenc Pfaff was the designer of the. 'Vehicular Hall' built around 1896. The hall was transformed into the Hungarian Royal Museum of Transport. The Millennium Exhibition presents the most important vehicles, original carriages, and models.

Permanent exhibitions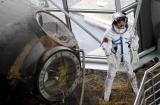 There is exhibited the first Hungarian aircraft with engine constructed by Aladár Zsélyi. Above this aircraft you can see the copy of Hungarian Zeppellin in scale 1:10. The exhibition contains the original space-capsule used by Bertalan Farkas, the first Hungarian astronaut. he backed from the space with his Russian colleague Kubasov on June 3-rd 1980.

The exhibition displays the development of the makeing and maintenance of the public roads from the 1920-es. You can see the changes of technology since that time. The exhibition contains very valuable and interesting tools for example wheels, old bicycle, elements of bridges.

You can see models in scale 1:50 displaying the production of ships in Hungary. These ships were on top tecchnological level that'why the main Hungarian shipyard had a large market.

The development construction of roads and bridges in the period from the beginnings up to 1918.

further exhibitions