István Dobó Museum
- Eger
Address:

3300, Eger Vár 1.

Phone number:

(36) 312-744

Opening hours:

Castle: 07.11-28.02.: Mon-Sun 9-18, 01.03-06.11.: Mon-Sun 9-22

Exhibitions: 07.11-28.02.: Tue-Sun 10-16, 01.03-06.11.: Mon-Sun 10-18
The first church to be built on castle hill was that constructed for the bishopric of Eger which was founded by St. Stephen. It was succeeded by a cathedral built in the romanesque and gothic styles. The bishop's castle, which was fortified after the Tatar invasion of 1241, underwent continual improvement up until the beginning of the eighteenth century. As a result of the heroic defence of the castle against the Turks in 1552 Eger Castle won renown and gained a patriotic significance as a symbol of Hungarian resilience. The following exhibitions can be seen within the walls of the István Dobó Castle Museum.

Permanent exhibitions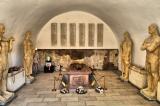 Heroes' Hall, situated on the ground floor of the Bishop's Palace, commemorates the greatest figures of Eger Castle. The red marble cover of István Dobó's tombstone, depicting the heroic commander dressed in battle armour, was brought here in 1965.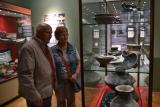 The exhibition presents archeological findings from the territory of Heves County, from the Stone Age to the era of the Hungarian conquest of the Carpathian Basin. The exhibition provides an insight into the work of archeologists and restorers from the beginning of the collection to the results of the latest research, as they attempt to put together pieces of our history from the objects and phenomena discovered.

In the 16th century a row of buildings stood on the west side of the palace yard, including the houses of the Canons, the bread distribution house and the bakery, as well as a large granary. Only the cellar situated under the row of houses survives to this day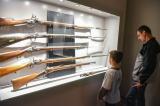 Chronologically and geographically, the collection covers a wide range of weapons from the Middle Ages to the World War I, from Europe to Africa and the Middle East. In addition to the Ottoman weapons and the contemporary Hungarian arms, that form the backbone of the collection, the exhibition also seeks to interpret the development of weaponry and the revolutionary impact of gunpowder.

further exhibitions