József Eötvös Memorial Museum
- Ercsi
Address:

2451, Ercsi Eötvös József utca 33.

Phone number:

(25) 492-075, (25) 505-840

Opening hours:

Temporarily closed.
The first Minister of Education of Hungary, József Eötvös spent most of his childhood at his grandparens' property in Ercsi. According to his wii he was burried here in the family grave. The museum was also furnished here, in the guest-house attached to the family mansion.

Permanent exhibitions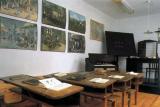 We can follow his course of life and role he played in the literal life. The documents presenting the information in connection with his son, the physicist are also of interest. The biedermeier room shows the function of the house. Portraits of Bertalan Székely made of Eötvös and his wife cover the walls.

further exhibitions