Natural Historicy Collection of Komló
- Komló
Address:

7300, Komló Városház tér 1.

Phone number:

(72) 483-016

Opening hours:

Mon, Tue, Thu 9-16, Wed 9-18, Fri 9-13
In 1990 the Komló Collection of Natural Sciences was founded, whereas the collection of regional history further operated under the name of Regional Town Museum. Following the change of regime both museums were placed in the Main Square of the town. A new collection of natural sciences was opened in 1997 under the title of The Natural Environment of Mecsek.

Permanent exhibitions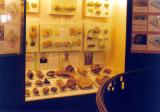 Visitors can see a wide range of selections of the natural science collection of the museum. We can learn about the history of our planet, and the flora and fauna of our special sub-mediterranian climate.

further exhibitions