Hungarian National Gallery
- Budapest
Address:

1014, Budapest Szent György tér 2.

Phone number:

(1) 201-9082

Opening hours:

Tue-Sun 10-18
Museum tickets, service costs:
| | | |
| --- | --- | --- |
| Individual ticket for adults | 3200 HUF | / capita |
| Individual ticket for students | 1600 HUF | |
| Individual ticket for pensioners | 1600 HUF | / capita |
| Video | 1000 HUF | |
The 20th century permanent exhibition dealing with the most important artists and aspirations until the end of the Second World War is located on the recently renovated second-floor of the museum. The time period we concentrate on is 1896 to 1945, with 150 paintings, 30 statues and 200 coins.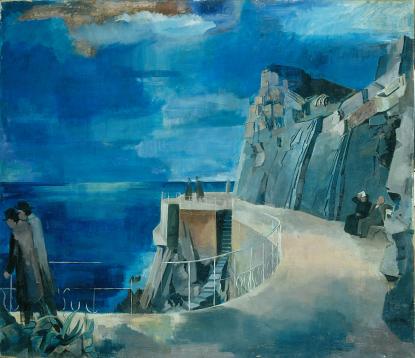 This time we have a slightly different approach. We show the material putting on a different stylistic emphases with new thematic units and work-life preferences. The work by Lajos Gulácsy 'Magic' (The Magician's Garden) greatly differs from the outstanding works of symbolism and secession. The Hungarian Wilds, the Eights (Including works by Béla Czóbel, Dezső Czigány, Bertalan Pór, Károly Kernstok), the avant-garde (works by József Nemes Lampérth, Béla Uitz, Sándor Bortnyik, Lajos Tihanyi) and also paintings fromm the period between the two wars e.g. by Lajos Vajda and Imre Ámos are featured. In addition, works of art by artists from the Nagybánya Artist Colony - especially Károly Ferenczy -, and József Rippl-Rónai, the New Association of Fine Artists (KUT) (e.g. Róbert Berény, Ödön Márffy) and also some worrks by artists belonging to the Gresham Circle (István Szőnyi, Aurél Bernáth, József Egry, Pál Pátzay).
Furthermore, we show paintings, sculptures and medals we borrowed from the Museum of Applied Arts, which are located in the section of the turn of the century and the Bauhaus masters' works, especially from the periods in which the artists worked in a collective artistic spirit and trying their talents in a variety of genres:they painted, designed ceramics, furniture and upholstery. The original interiors are recalled by archive photographs using furniture ornamented with folk tale motifs by the architect Ede Toroczkai Wigand, dining room Art Nouveau ceramics József Rippl-Ronai made for the Andrássy Dining Room manufactured in the Zsolnay Factory and the world-famous tubular furniture by Marcel Breuer's.
An exciting new feature is the room named 'The artistic harmony of an upper middle class home - The Schiffer Mansion' The home of renowned architect and patron, József Vágó designed by the highly successful builder, was constructed by Miksa Maximilian and finished in 1911. During World War II , the mansion was seriously damage. It is however, recalled by a panno by József Rippl-Rónai fork, panel paintings by Károly Kernstock István Kiss and well statuettes by Vilmos Fémes Beck.