Village Museum
- Tápiógyörgye
Address:

2767, Tápiógyörgye Béke utca 2.

Phone number:

(53) 383-001

Opening hours:

15.03-16.10.: Sat-Sun 13-17
The first material to the collection of the Village Museum was acquired by the teacher László Molnár who began collecting objects used by peasants in the 1960's. The collection was kept on the attic of the school until they were shown at exhibitions.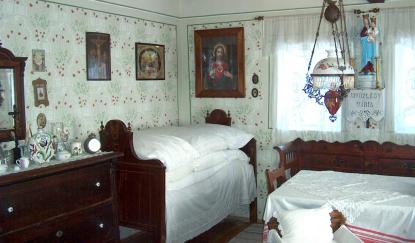 The mayor István Varró considered the museum important. Thus, an ethnography showing opened in 1983 supported by villagers. Three rooms are furnished they were in the 1920's. The beehive oven and the oven in the kitchen were made by Miklós Kis.
The room, kitchen and porch were painted by Mrs. Fehér, Anna LAdányi from Györgye. She used patterns, the so-called "furma" when painting. She considered colours used formerly and the harmony of colours once popular.
The furniture mirrors that of the peasantry in the 1920's. A few nicer furnitures were made in the second half of the 20th century. Furniture placed in the corners and furniture placed among the walls was both popular setting in Györgye. Examples of both can be seen at the Village Museum. The painted sofa in the Tiszafüred style and its pair, a small sofa on the beam of the oven are of curiosity. The painted rack also in the Tiszafüred style made in the 1920's located in the yard is also very nice.
The piled bed linen was also made locally. The carpenter made chest in the Gömör style is located in the chamber. The chest used to be in the room. In the 20th century, the housewife locked fat and smoked ham in this chest at the beginning of fasting at Carnival. Furniture of peasant houses in Györgye was similar to that of the Jászság in many ways.
A Saint Orbán Statue, a typical object in the vineyards of Györgye was placed on "Grape Street" in 1897. The left hand of the statue is missing. In May 1936 in Györgye vine froze. The vine grower took revenge on Orbán. Vine growing was just as important as farming in Györgye. The following prayer suggest this:
"Saint Orbán
We pray to You
Ask for blessing for us from God
For our vine and fruit trees
And for our opinion"