Szekler Museum of Ciuc
- Miercurea Ciuc
Address:

530132, Miercurea Ciuc p-ţa Cetăţii nr.2. / Vár tér 2.

Phone number:

(266) 372-024, (266) 311-727

Opening hours:

15.03-15.11.: Tue-Sun 9-17

16.11-17.03.: Tue-Sun 9-16
Museum tickets, service costs:
| | | |
| --- | --- | --- |
| Ticket for adults | 324 HUF | |
| Ticket for students | 162 HUF | |
| Ticket for pensioners | 162 HUF | |
| Guide | 10 HUF | |
The preservation, restoration and rescue of the values and treasures of our cultural heritance are noble tasks. Good manual skills, patience, humility and respect are essential in the process of the restoration. The restorer has to be prepared from scientific, historical, cultural and artistic point of view.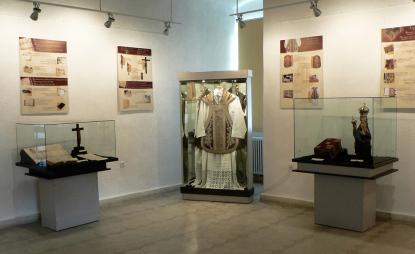 The documentation, testing of materials, sterilization, dry - and wet cleaning, neutralization and completion of the missing parts of the exhibited objects were all made by our restorers.
Usually the whole process of restoration was written down and documented with photos in order for our visitors to get acquainted not only with the exhibited objects, but also with the process of their restoration.
You can see in this exhibition manuscripts from the 13th - 17th centuries, old books (bibles, psalm - books, etc.) of the 15th – 19th centuries, paper and parchment charters from the 18th - 20th centuries, statues, icons, crucifixes, chasubles from the 17th - 20th centuries. The objects made of paper and leather are restored by Éva Benedek, the statues and paintings are restored by Zsuzsa Mara. The restoration of the textile objects is the result of their collective work.